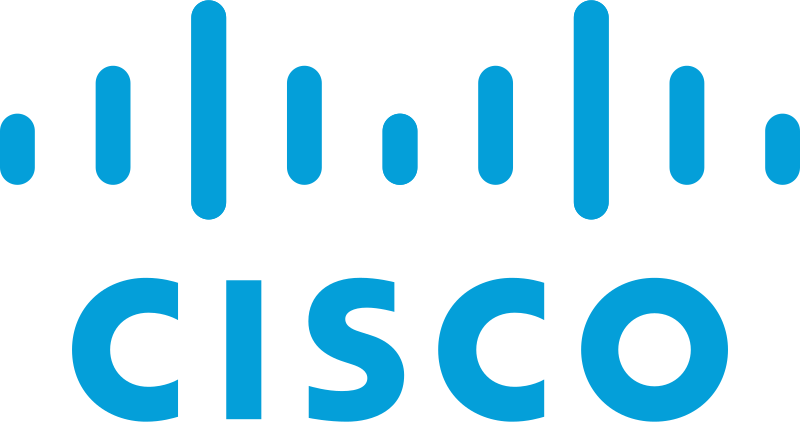 Full Stack Observability is in our DNA with 15+ years of experience, spanning several generations of solutions. JDS has the trusted skills and local capabilities to deploy, integrate and optimise your chosen Cisco FSO platforms, which include AppDynamics, ThousandEyes and Intersight Workload Optimizer (IWO), to actualise your observability strategy.
Implementations
Our Cisco team will guide you through strategy development and business value identification. Then deliver on that with a seamless implementation to expedite the adoption of the chosen solution. The JDS team of Cisco FSO experts are passionate about enhancing the digital experience and ensuring IT works for your organizational model.



Deeper Visibility
JDS connects full stack observability with real-time business metrics to give enterprises deeper and more contextual visibility into the performance of their applications. We can help you be known for providing the best digital experience by identifying and prioritising the most critical issues before they affect your users.



Digital Experience Monitoring (DEM)
Optimise your customer and employee experience by gaining unrivaled visibility and understanding of your complete digital supply chain, from synthetic transactions and service availability to network paths and internet routing feeds. Entrust JDS to implement ThousandEyes DEM and observe the entire digital experience as a whole, allowing for more effective planning and enhancement of the operational journey.
Application Resource Management
JDS can help to simplify and automate application resource management at scale, reducing costs and increasing resource utilisation without overprovisioning. Implementing Cisco Intersight Workload Optimization (IWO) will assist in efficiently scaling resources according to actual application requirements for optimal performance.



AppDynamics Cloud
AppDynamics Cloud is a purpose-built solution, providing cohesive observability across even the most complex cloud native technology landscapes. JDS can assist current AppDynamics customers upgrade to AppDynamics Cloud to leverage their existing APM agents, or feed both solutions concurrently.



Centre of Excellence
Drive adoption through support, knowledge transfer and communication. JDS offers a range of services to help you keep your Cisco environment current and in safe hands. We have remarkably experienced technical resources to provide you with the knowledge and guidance required to realise the value from your investment.

Success Stories
A successful Cisco FSO outcome for a prominent Australian retailer >>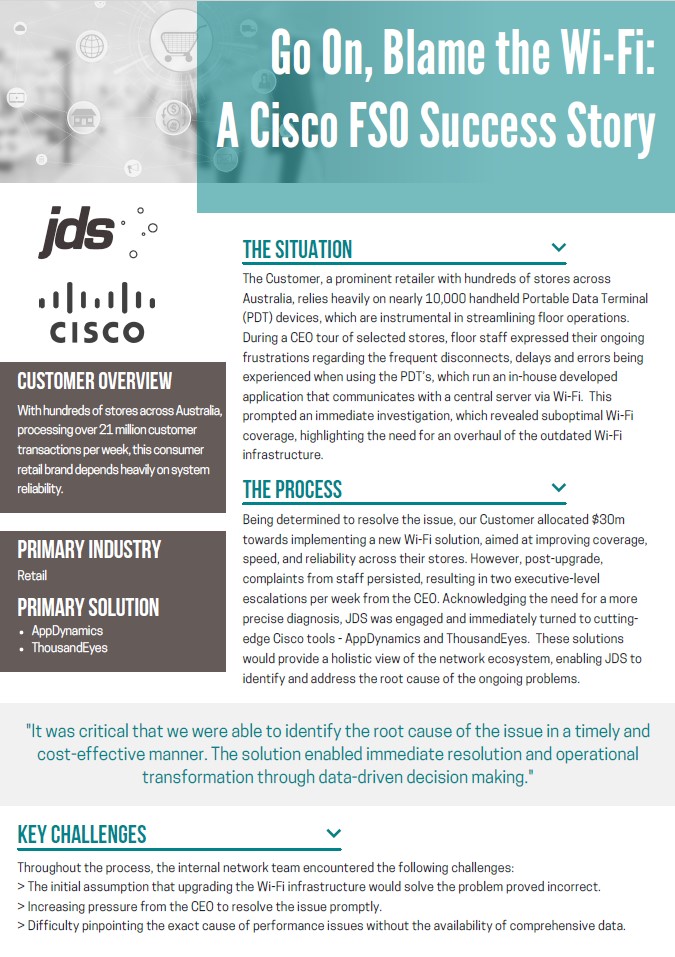 AppDynamics BizIQ transforms an online retail experience >>