ServiceNow performance testing tips
Although ServiceNow comes prepackaged with a wide array of prebuilt applications, it's possible to extend these and develop entirely new applications, and this is where performance problems may arise.
Out-of-the-box, ServiceNow is a fast, robust, secure SaaS platform. ServiceNow is designed to be extended and modified, but customers need to understand those points where performance issues may arise.
Slow loading forms can be a source of user frustration and hinder user uptake. Forms are an area where performance problems can be encountered because customers need to implement additional layers on top of the standard system to incorporate their own business logic. These layers can also build up incrementally over time which can result in reduced performance from one year to the next.
It's important to understand what business rules and scripts are executing, and in what order, when a record is loaded in a form. This will allow us to better understand where performance issues may arise.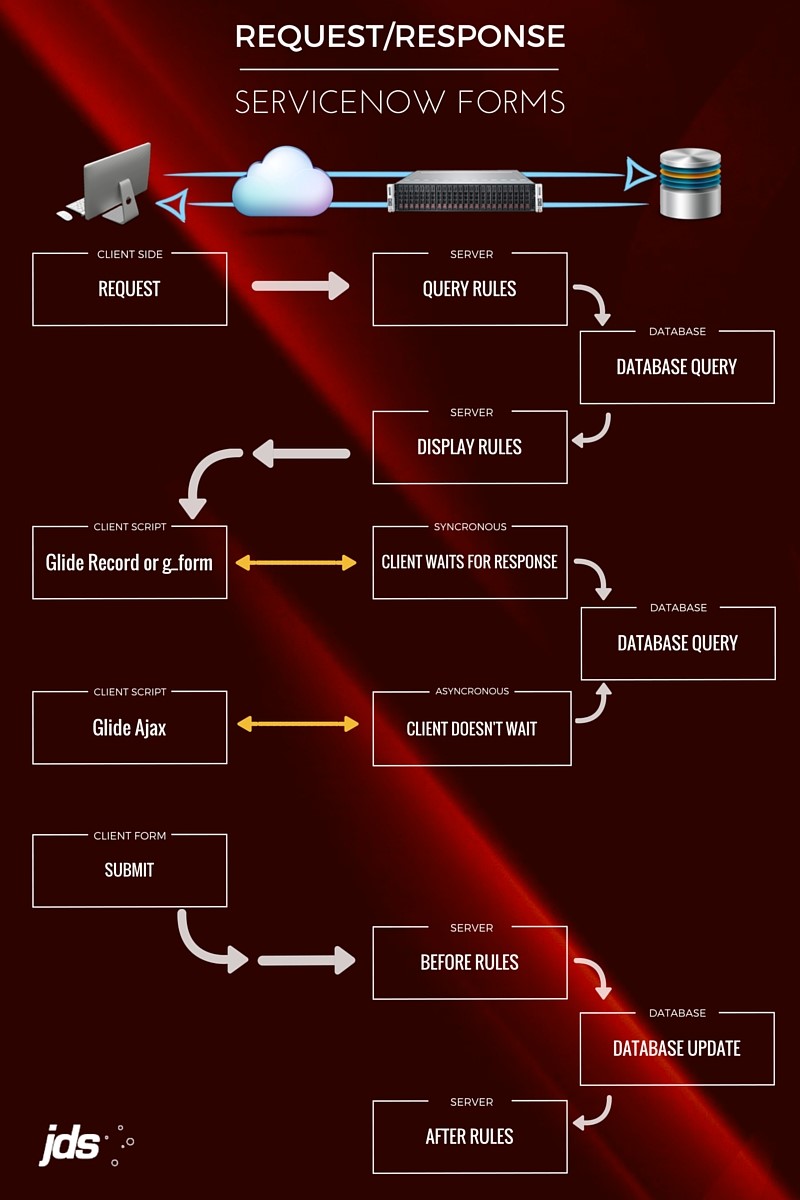 As you can see from the diagram above, there are business rules which execute on the server and scripts which execute on either the client or the server. Both can be a source of performance issues if not managed carefully.
Where possible, synchronous scripts should be avoided as the user will be forced to wait for the network/server response to arrive before they can continue their work. As tempting as it is to use asynchronous scripts to enhance the information available to users on a form, this still requires additional communication across the network to ServiceNow. JDS recommends using asynchronous calls sparingly, as there are other means of preloading information, such as using the g_scratchpad.
There are four ways of dynamically incorporating additional information into a form in ServiceNow:
Most ServiceNow administrators are familiar with GlideRecords and g_forms, but these have the heaviest overhead from a performance perspective, as they retrieve all the fields from a particular record when only one value may be needed. To avoid performance issues, you should consider using the g_scratchpad object where possible.
What is the g_scratchpad object?
The g_scratchpad object is a simple way of pre-fetching values that are needed on a form. Avoid making additional server calls from the client by anticipating the need for information ahead of time.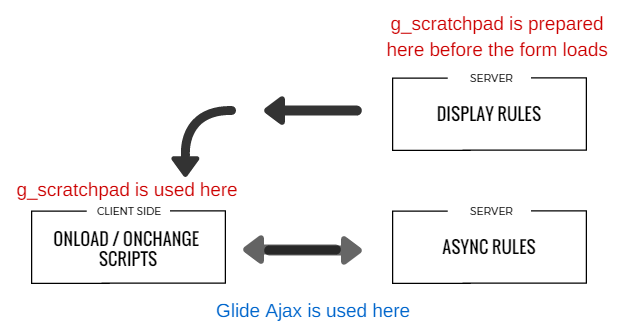 Using the g_scratchpad object is easy.
The scratchpad is whatever you need it to be. You define the keys and values you want. Simply load up the g_scratchpad object with whatever information is needed by the form, and then refer to it from the form using Client Scripts.
Here's an example from the ServiceNow Wiki.
Display business rule
g_scratchpad.instanceName = gs.getProperty('instance.system.property');
g_scratchpad.hasAttachments = current.hasAttachments();
g_scratchpad.createdBy = current.sys_created_by;
You can then use this information in your client script without the need for an ajax call.
Client Script
// Check if the form has attachments
if (g_scratchpad.hasAttachments)
// do something interesting here
// Check if this is TEST instance
if (g_scratchpad.instanceName == 'TEST')
g_form.setDisplay('test_field', true);
Sometimes, GlideAjax or other methods will be required when information is needed dynamically, but you should carefully consider whether the g_scratchpad can be used before looking at other approaches. JDS recommends developers consult ServiceNow's own Client Script Best Practices article for more information on this topic.
Why performance test ServiceNow?
When dealing with custom business logic, performance testing ServiceNow can be extremely beneficial. In past performance tests JDS has completed for various multinational companies, JDS has discovered database issues, slow responses for certain forms and also discovered that users from different locations around the world could have an impact in response times. Finding database issues and slow response times prior to going live has allowed these companies to address the problems before launch, helping them achieve their goals of streamlining business processes rather than causing more frustration for employees.
Performance is an important part of the user experience, and is key to ensuring the uptake of ServiceNow within your organisation.