New Relic One
Why New Relic One? Observability Made Simple !
Petabyte scale. Millisecond speed.​ Pennies per GB.
New Relic One is an observability platform built to help engineers create more perfect software. From monoliths to serverless, you can instrument everything, then analyze, troubleshoot, and optimize your entire software stack. All from one place.
New Relic One The Observability Platform
Collect all your telemetry data in one place to deliver full-stack observability and power AI-driven insights so you can confidently improve service reliability and accelerate time to market.
It's time for a New Approach

New Relic One, The Observability Platform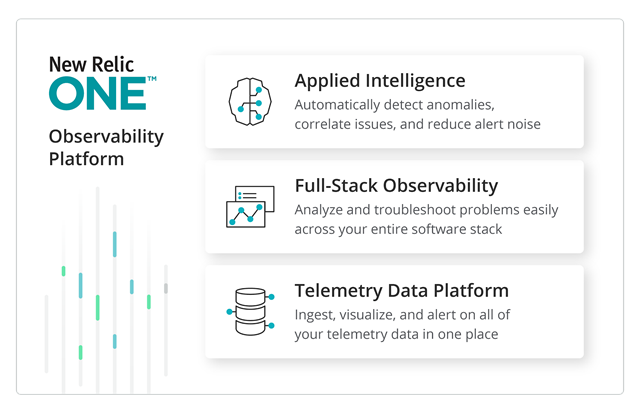 JDS Capabilities With New Relic One
Deliver great customer experiences
Our goal with Observability is to help you deliver great experiences to your customers. Our New Relic One experts are also performance experts, allowing us to leverage skills across your design, development, and testing lifecycle, as well as in production.
Get Observability done right
Let our Observability gurus guide you through Observability strategy development, business value identification, and product selection, then have us deliver on that with implementation of the tool and induction into your teams.
Solve problems fast
New Relic One provides great deep-dive diagnostics to tell you where problems are occurring. We can do the leg-work of interpreting this information and taking action to solve problems quickly.
Operations Ensure it's working 24/7
Our capabilities go beyond implementation. Let us ensure New Relic One is running smoothly for you. Have our monitoring experts provide you with proactive analysis and reporting so you can focus on delivery and execution.
Provide context to your data
JDS gives greater business context to your data by interpreting the wealth of New Relic One data through proprietary business dashboards. Representation of key performance indicators simplifies and improves operational management.
Get a multi-disciplined approach
All of our consultants work in multiple fields that relate to Observability, including performance testing, operations management, and service management. We take pride in our ability to 'ensure it works'—this is more than just installing a tool.
Why choose JDS?
JDS is a leading IT solutions provider and systems integrator, with expertise across industry-leading tools such as New Relic One, AppDynamics, Splunk, ServiceNow, Atlassian, Micro Focus, SAP, and more. We provide local, skilled, and responsive services to support IT projects and operations. Bringing together expert services, the latest technology, and best practices, JDS achieves improved IT outcomes for businesses. We do this by giving independent advice, providing training and ongoing support, and implementing IT testing, monitoring, and management solutions.

We have a team of certified New Relic One technical experts who are setting the standard for Observability implementation and operation in Australia. Do more than just deploy a fancy tool – implement it right, get it integrated into your daily IT life, and have it deliver on everything it promises.