Imagine this…
You're at work, and suddenly an application you're using stops working. You're in a rush and can't afford to spend hours on the phone with technical support. But what if there was a way to get your problem solved quickly and efficiently, without ever having to speak to a human being?
The ServiceNow Virtual Agent is an AI-driven conversational chatbot that is equipped to efficiently tackle your IT issues. With just a few clicks, you can explain your problem and get instant assistance. Using a combination of ServiceNow Automation Center and Flow Designer, the ServiceNow Virtual Agent will quickly identify the submitted query and proactively initiate a conversation for resolution, without the need for human intervention.
In our initial scenario, the ServiceNow Virtual Agent would have promptly diagnosed the problem and triggered the ServiceNow Automation Center bots to restart the application service through the use of Robot Process Automation. Simultaneously, a ServiceNow incident ticket is created through the ServiceNow Flow Designer, allowing your IT department to track the issue and ensure it doesn't happen again. All of this happens in a matter of minutes, ensuring that you can get back to work without any further interruptions, and with minimal human interference.
This is a practical example of Hyperautomation in action.
Automation vs Hyperautomation
Automation has become a buzzword in the world of technology and business, but what exactly does it mean? Simply put, automation refers to the use of technology to perform tasks or processes that would typically be performed manually by humans. This can include everything from using software bots to handle repetitive tasks, to using machine learning algorithms to make decisions based on data.
However, automation is no longer limited to simple, repetitive tasks. With the emergence of advanced technologies such as RPA (Robotic Process Automation), AI (Artificial Intelligence), and ML (Machine Learning), we have entered a new era of automation known as Hyperautomation. Hyperautomation involves using these advanced technologies to automate more complex and sophisticated tasks, such as decision-making, data analysis, and even creative work.
The goal of Hyperautomation is to create a fully automated end-to-end workflow that can deliver business value by improving efficiency, reducing errors, and increasing productivity. By leveraging the power of automation, organizations can streamline their operations, reduce costs, and free up their employees to focus on more strategic tasks.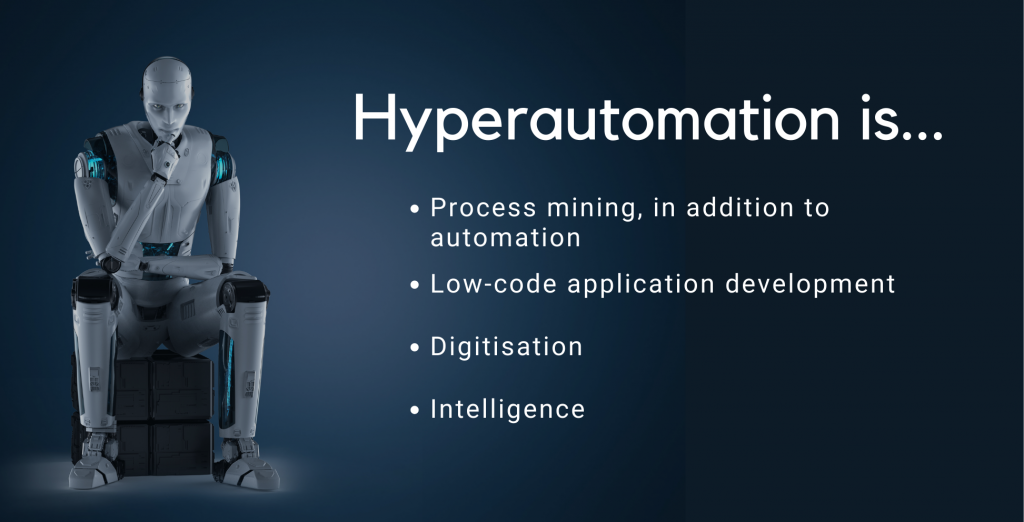 ServiceNow Hyperautomation
ServiceNow offers a platform that combines several automation technologies, including Robotic Process Automation (RPA) Hub, Process Automation Designer (PAD), Automation Center (AC) and Integration Hub (IH), enabling organisations to automate complex, end-to-end processes.
With ServiceNow Hyperautomation, organisations can improve their overall processes, efficiency and productivity. This is achieved through the use of workflows, bots, and other automation tools that can automate everything from simple, repetitive tasks to more complex decision-making and data analysis processes. ServiceNow Hyperautomation has become an increasingly popular solution for businesses looking to stay competitive in today's fast-paced, digital world.
Up Next…ServiceNow Hyperautomation: Part One will look at Process Optimisation, API vs RPA
Watch: Hyperautomation and Low-Code | Knowledge 2022